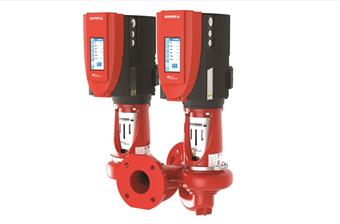 Design Envelope Tango™ Pump
To help the industry meet the challenge of providing cost-effective HVAC operations, Armstrong has developed the Design Envelope Tango pump, representing the pinnacle of energy performance. With a shared casing and volutes for 2 motors, industry-leading hydraulic efficiency, energy-saving iECM™ motors, and on-board Parallel Sensorless Pump Control™, Tango offers more value than any other solution available today.
Our patented Parallel Sensorless technology delivers best efficiency-point staging and enables a new approach to traditional duty standby requirements through the inherent redundancy and control capabilities of Design Envelope offerings. These unique capabilities combine to further extend both the installed cost and energy savings available to our customers.
Design Envelope Tango Pumps are available in 1 hp to 10 hp configurations.